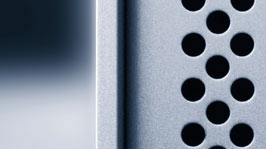 Paradigm Metals, Inc. is an ISO 9002 Certified company located in Round Rock, Texas and serves the entire Central Texas Region. With its essential location, Paradigm Metals, Inc. is at the leading edge of its competitive market. Paradigm Metals, Inc. offers a diversified range of products that are manufactured for, but are not limited to, the following industries:
Aerospace
Medical
Telecommunications
Test Equipment
Military
Baggage Handling
Transportation
Semi-conductor Industry
For nearly eighteen years Paradigm Metals, Inc. has been a leader in providing close-tolerance complex components, namely; Precision Sheet Metal Fabrication, CNC Machined Products, Powder Coating and Contract Manufacturing. The experience and dedication put forth in sustaining high-tech technology, quality control, customer service, flexibility and expeditious delivery have all contributed in placing this company at the forefront of its market throughout the Central Texas region. This well established company continues to grow as the result of the excellent reputation it has earned and the impressive results it has provided to its customers.